Reporter feature
Reporter feature allows you select a report and its automatic schedulled execution.
Report can be regulary send to email adresess or kept on the server.
Reporting options
Reported devices
It allows reporting through all collected metrics by devices.
Storages
SAN switches
Custom Groups
Output format
CSV
PDF
graphs in png format
graphs in png zipped in one file
Time schedulling
Daily
Weekly
Monthly
Selected day in year or month
Target receiver
email addreses
group of email address
leave it on the filesystem
Free edition restrictions
This feature has 2 restrictions for users using free edition:
you can have configured only 1 report in time (no restriction on number of items in the report)
it can be initiated only from the fron-end (GUI), it does not allow to be schedulled to run automatically.
Users authorization follows their ACL restrictions. Each user has its own private reporter configuration.
This feature is available since STOR2RRD version 2.30.
Reporter examples
Coming soon ...
Configuration
Create new report

Create report item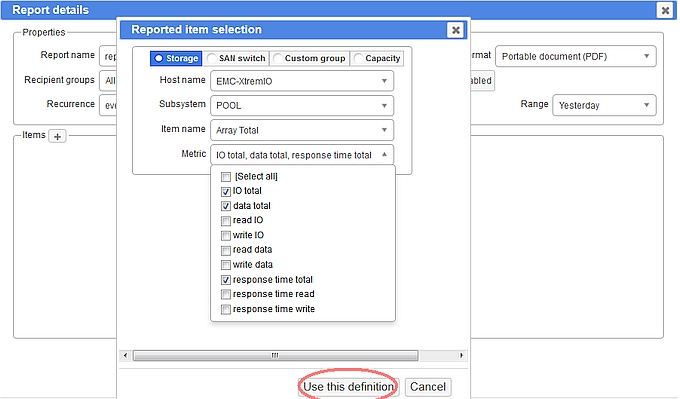 Save and Run