Supported devices
Is support for your storage missing?
Vote for it to give us visibility of that. More votes, bigger chance we go for it.
Product roadmap.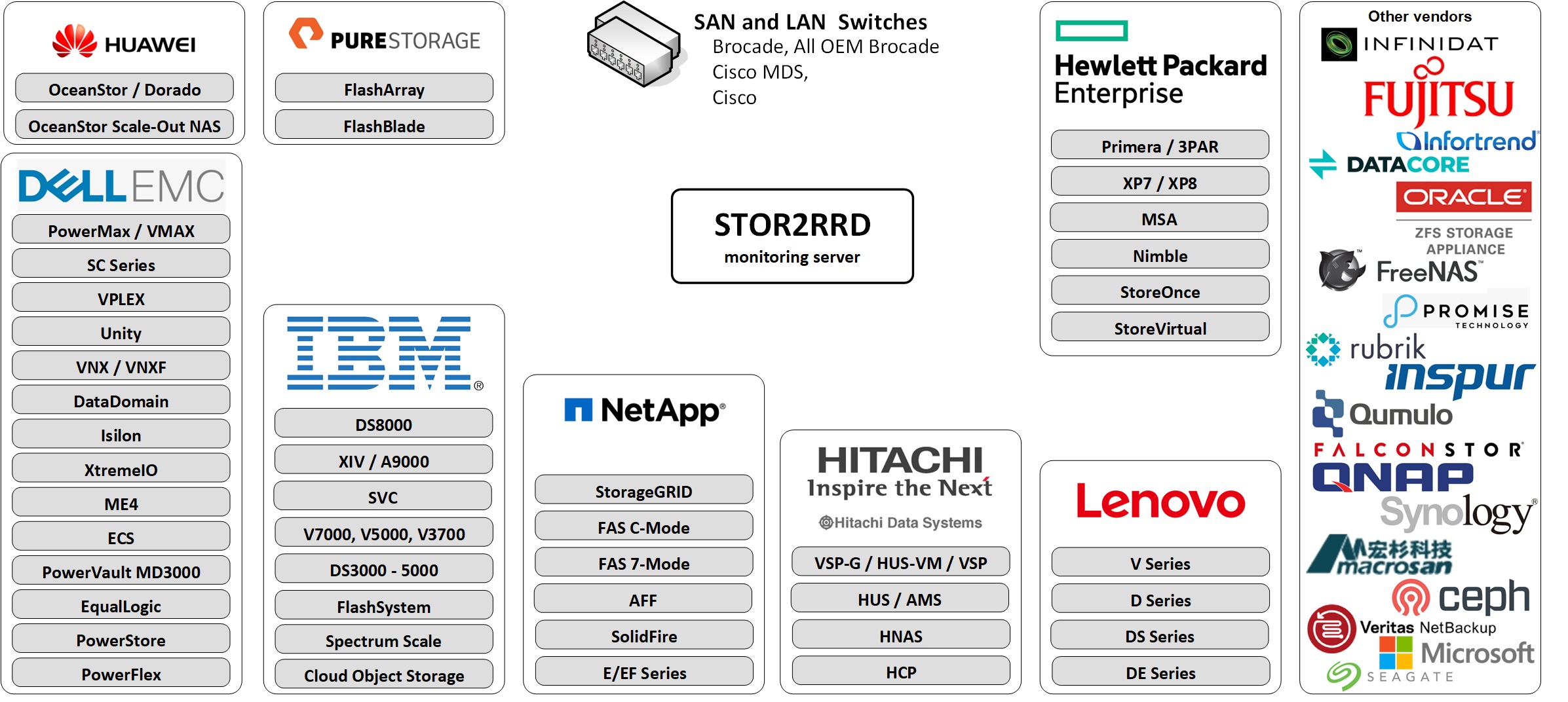 NetApp®
NetApp AFF A-series
NetApp E/EF-series
NetApp FAS (Clustered Data OnTAP (CDOT))
NetApp FAS (OnTAP 7-mode)
NetApp SolidFire
IBM®
IBM System Storage DS8000, DS6800
IBM FlashSystem 9100, V9000, V840, 900, 840
IBM FlashSystem 9200, 7200, 5100, 5000
IBM FlashSystem A9000
IBM Storwize family (V7000, V7000-Unified, V5000, V3700)
IBM Spectrum Virtualize (SVC)
IBM Spectrum Accelerate (XIV)
IBM DS3xxx, 4xxx, 5xxx
IBM DCS3700
IBM System Storage N series
Lenovo®
Lenovo Storage S Series (S2200/S3200)
Lenovo Storage V Series (V5030/V3700)
Lenovo ThinkSystem DS Series (DS2200/4200/6200)
Lenovo ThinkSystem DE Series (DE2000/4000/6000)
Lenovo ThinkSystem DM Series (DM3000/5000/7000)
Dell® EMC²®
EMC² PowerMax
EMC² VMAX
EMC² XtremIO
EMC² VPLEX
EMC² ECS
EMC² Unity
EMC² VNX
EMC² VNX file
EMC² DataDomain
EMC² PowerScale (Isilon)
EMC² Celerra
EMC² CLARiiON CX4
EMC² PowerVault® ME4 Series
EMC² VNXe
Dell SC Series (Compellent)
Dell PowerVault MD3000
Hitachi®
Hitachi Data Systems VSP G
Hitachi Data Systems VSP F
Hitachi Data Systems VSP 5000
Hitachi Data Systems HUS-VM
Hitachi Data Systems VSP
Hitachi Data Systems HUS
Hitachi Data Systems AMS
Hitachi Data Systems HNAS
Hitachi Data Systems HCP
HPE®
HPE Nimble
HPE Primera
HPE StorageWorks XP7
HPE StoreServ® 3PAR
HPE MSA 2000/1000
HPE StoreOnce
HPE StoreVirtual
HPE LeftHand
Other Vendors
Ceph
DataCore® SANsymphony
Dot Hill/Seagate AssuredSAN®
FalconStor FreeStor
Fujitsu® ETERNUS DX/AF series
Huawei® OceanStor
Huawei Dorado
INFINIDAT InfiniBox®
Inspur AS 5500/5300/2600/2200
iXsystems FreeNAS, TrueNAS
Oracle® ZFS
Pure Storage® FlashArray
Pure Storage FlashBlade
QNAP NAS
Quantum® StorNext Q-Series
Qumulo
RAIDIX
Synology
Cisco MDS
Cisco Nexus
Brocade and all their re-brands
Brocade Network Advisor
QLogic
Cisco
Huawei
Any network device with Cisco-compatible SNMP MIBs
Veritas NetBackup Appliance
HPE StoreOnce 4.x support
MacroSAN
Our mission
Bring an easy solution to the market for performance monitoring and capacity planning of your highly virtualized environment with a simple and easily comprehensible UI.
It is intended as the operation front-end tool which can simply and quickly identify load abnormality and locate problems at the infrastructure level.